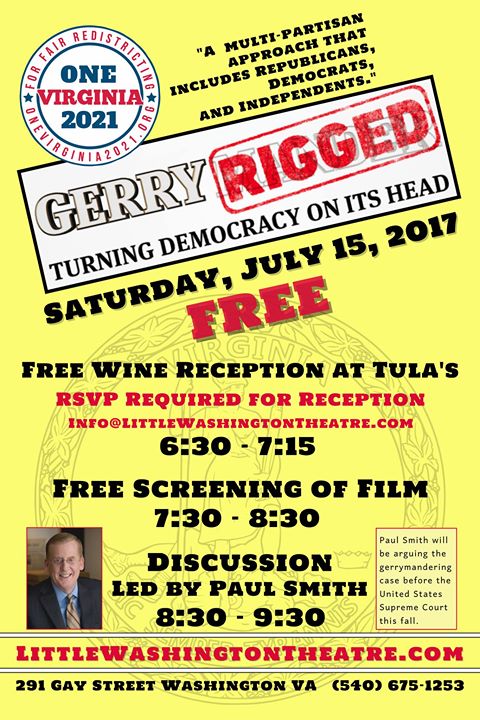 Details:
Date: July 15, 2017
Time: 7:30pm - 10:30pm
Where: Theatre at Washington, Virginia
291 Gay St, Washington VA 22747
About:
FREE EVENT Saturday, July 15th, at 7:30 p.m. Presenting "Gerryrigged, Turning Democracy on its Head" the documentary developed by OneVirginia2021, a non-partisan not-for-profit organization that includes Democrats, Republicans, and Independents. Their mission is to advocate for the adoption of an amendment to the Virginia Constitution that will establish an independent, impartial commission to apply a fair and transparent process in drawing political districts after the 2020 census. Timing is essential. The General Assembly will sign the state and congressional maps into law in 2021. Following the one-hour screening, we are very fortunate to have a discussion with Paul Smith. For those of you who don't know him, Paul is Vice President of Litigation and Strategy with the Campaign Legal Center (CLC), working with CLC's team of litigators to protect and improve U.S. democracy through innovative litigation strategies. Paul has more than three decades of experience litigating a wide range of cases, including having argued before the Supreme Court to advance civil liberties. Two examples are Lawrence v. Texas, the landmark gay rights case, and Brown v. Entertainment Merchants Ass'n, which established First Amendment rights of those who produce and sell video games. Paul has also argued a number of important voting rights cases at the Supreme Court, including Vieth v. Jubelirer, involving partisan gerrymandering, LULAC v. Perry, involving the legality of Texas's mid-decade redrawing of congressional districts, and Crawford v. Marion County Election Board¸ involving the constitutionality of a voter identification law. He served as counsel for amici who filed in several key campaign finance merits cases McCutcheon v. FEC (on behalf of Democratic House members), Arizona Free Enterprise Club's Freedom Club PAC v. Bennett (on behalf of the Committee for Economic Development) and Citizens United v. FEC (on behalf of the Committee for Economic Development). Paul has been honored nationally by a variety of publications and organizations. In addition to his work at CLC, he teaches as a Distinguished Visitor from Practice at Georgetown University Law Center. When not working in D.C., Paul spends his time in Flint Hill with his husband Michael Dennis.