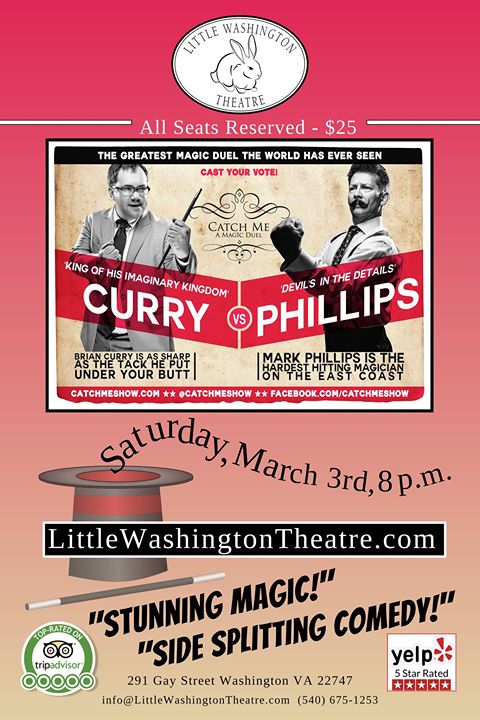 Details:
Date: March 3, 2018
Time: 8:00pm - 10:00pm
Where: Theatre at Washington, Virginia
291 Gay St, Washington VA 22747
About:
"Mark Phillips has skill to burn." - Washington Post Tired of dinner and a movie? Magic isn't for kids anymore. First rate snarkists Mark Phillips and Brian Curry battle for the title of Best Magician in The Magic Duel. This show is full of seriously funny magic that will fool you. Badly. It involves the audience from start to finish. At the end of the show, the audience votes for the winner. An amazing night out! The Competitors: BRIAN CURRY "Brian is as sharp as the tack he put on your seat!" Brian has become a force in the magic world. His original work has been published in trade journals and he's been featured in newspapers and performed on TV shows across America. With thousands of shows under his belt, Brian has emerged as one of the Washington, DC's hottest magicians. Brian performed his first trick 20 years ago. He cut his father's tie in half and put it back together, and it almost worked! He was hooked. At the age of 18 he took first place at the World Magic Summit competition. You're probably wondering what winning an international competition means to a magical career. The answer is 'nothing'. But it gave him the boost to start a career in magic. MARK PHILLIPS Natural-born class clown Mark Phillips learned to vanish a cigarette when he was only six years old. Fortunately, six-year-olds with cigarettes were fairly common in 1960's Kentucky. Reared in a military household, Mark developed a passion for order, discipline, and psychological warfare on his sisters. Applying these traits to deception, Mark become an expert, eventually tricking a university into giving him a French horn scholarship even though his major in microbiology. Paying the remainder of his college bills by performing regularly at the Phoenix Playboy Club, Mark realized show business might not be such a bad idea. His long career as a magical entertainer performing in 36 countries proved him right. Mark is one of only 12 recipients of the National Theater's "Star of Magic Award.- He has been profiled in UK's "The Guardian", and his appearance at the Kennedy Center prompted the Washington Post to write, "Mark Phillips has skill to burn." Hundreds of corporations have trusted him to entertain their most important customers, sales prospects, and guests at events worldwide. He frequently represents companies exhibiting at trade shows where he weaves his magic into his clients' marketing message to generate sales leads by the hundreds. Mark once fooled thousands of people into believing he could speak German fluently before actually learning how, and his favorite German word is "Leitungsuebertragungeschwindigkeit."