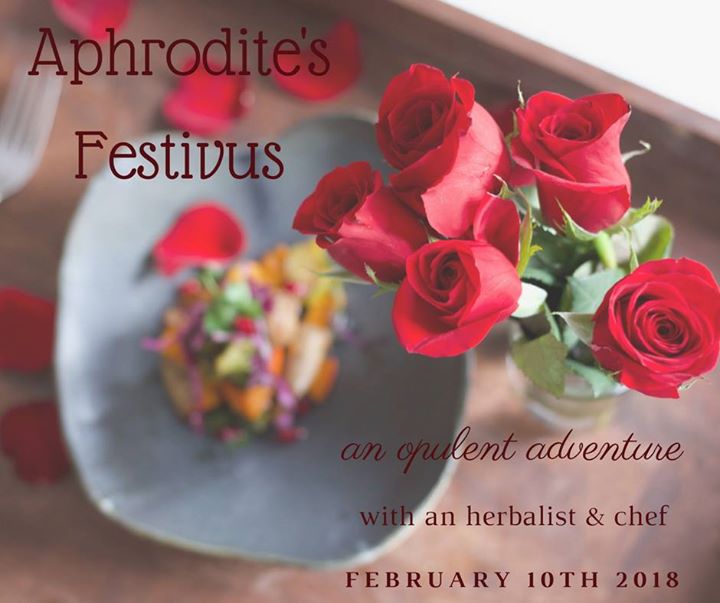 Details:
Date: February 10, 2018
Time: 5:30pm - 9:00pm
Where: Wild Roots Apothecary
4 River Lane, Sperryville VA 22740
About:
Come play with us with Aphrodite in our minds. Join Colleen O'Bryant of Wild Roots Apothecary and Chef Ryan Ross of Lovage & Co in a collaboration dedicated to the lovers in us and around us. We are crafting up a sensual experience of adventure by detouring from the typical Valentine's Day happenings to introduce you and yours to our first annual Aphrodite's Festivus. This lust enhancing, herbacious and magical, opulent experiential meal will be journey for the senses. During this evening of revelry and learning you will be spiking your sips and and lacing your taste buds with aphrodisiacal and elixirs. Your evening will be filled with playful love potions of varying intensity and fabulous food cloaked by the wintered flavors of our local Virginia harvest. Join us solo, as a duo, with your lovers and friends for a meal that will stimulate and propel your spirit to the lavish edges of your loving being. You may expect offerings by way of the herbal kingdom throughout a pleasurable feast of four courses with interludes of refereshing interludes of bits and bobs throughout. Your savory fare will be followed by an array of intoxicating sweets. To entice you further you may look forward to potent poetry, tarot readings and parting gifts of sensual goodies. Enhance your evening with the Golden Ticket add-on opportunities of photo portraits, flowers, a la carte potions, teas, tonics and elixirs. We will be tucked away in the warming glow of the Apothecary studio. No need for scandal, but please do be sensual.