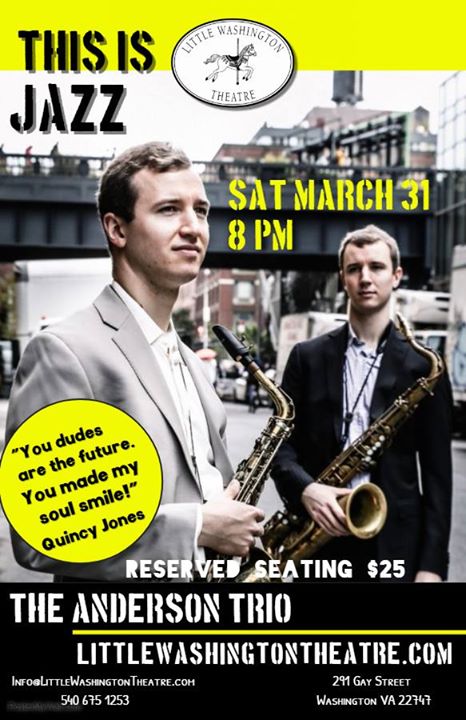 Details:
Date: March 31, 2018
Time: 8:00pm - 10:00pm
Where: Theatre at Washington, Virginia
291 Gay St, Washington VA 22747
About:
"PETE AND WILL ANDERSON ARE VIRTUOSOS ON BOTH CLARINET AND SAXOPHONE" - New York Times "THESE GUYS FLOOD THE ROOM WITH JOY" - Seattle Times Check them out: https://www.youtube.com/watch?v=VZiuwMStGY0 Reserved Seating; Adults - $25; Under 18 - $10 Peter and Will Anderson are one of the most extraordinary set of brothers performing music today. Known for their unique renditions of classic jazz songs and innovative original music, they hail from Washington, DC, but moved to New York City to attend Juilliard. Peter and Will have performed with the Lincoln Center Jazz Orchestra, Village Vanguard Orchestra, Jimmy Heath Big Band, Wycliffe Gordon, Cecile McLorin Salvant, Paquito D'Rivera, Kenny Barron, Bob Wilber, Albert "Tootie" Heath, live on Prairie Home Companion and are featured on the 2014 Grammy Winning Soundrack of HBO's Boardwalk Empire with Vince Giordano's Nighthawks. The Anderson's have headlined at The Blue Note, Jazz at Lincoln Center, The Kennedy Center, New Orleans Jazz Festival, Sarasota Florida Jazz Festival, South Carolina's Jazz Corner, Seattle's Triple Door, Miami-Dade Cultural Arts Center, DC's Blues Alley, and Arizona Music Festival. Their ensemble has performed in over 40 U.S. States, toured Japan, and featured four times in NYC's famed "Highlights in Jazz" series, alongside Lou Donaldson, Ken Peplowski, and Warren Vache. As guest clinicians, Peter and Will have visited Temple University, Xavier University, University of South Florida, University of Central Oklahoma, Florida State University, Ohio State University, Michigan State University, University of Scranton and others. Peter and Will's debut release from 2012, Correspondence, features Kenny Barron and was listed in Vanity Fair magazine alongside Miles Davis in "Four New Releases to Make You Love Jazz." The Washington Post called their music, "imaginatively unfolding in ways that consistently bring a fresh perspective to classic jazz." Their newest album, Deja Vu, features Albert "Tootie" Heath and was called "a burner that reveals the band's cohesiveness and spirit" by JazzTimes. In 2016, they performed live on Prairie Home Companion, playing a duo version of "Lotus Blossom" commemorating Billy Strayhorn's centennial. Peter and Will endorse D'Addario woodwind products and Selmer saxophones.