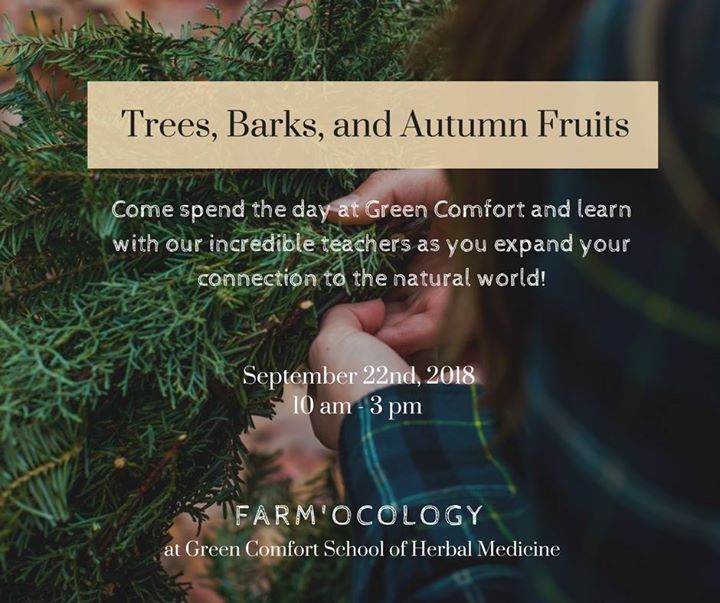 Details:
Date: September 22, 2018
Time: 10:00am - 3:00pm
Sponsor: Green Comfort School of Herbal Medicine
Venue: Green Comfort School of Herbal Medicine
Where: 100 Rock Mills Road, Castleton VA 22716
About:
Since the beginning of time, trees have given us shelter, shade, food, tools, and beauty. Some of their medicinal gifts include remedies for cough, congestion, parasites, inflammation, rashes, etc. Join us for a tree identification walk through the Blue Ridge Mountains, beside the streams and along the roadside, as we identify both the native and invasive trees of our region. We will delve into the magic, medicine, and distinguishing characteristics of Pine, White Oak, Wild Cherry, Tulip Poplar, Sassafras, Sweetgum, Mimosa, Black Walnut, and other trees in our area. The second half of the day will be hands-on medicine making from the gifts of the trees. Teresa Boardwine, Registered Herbalist with the American Herbalist Guild, will discuss proper methods of harvesting bark, roots, leaves, and flowers. We will end the day together with a guided Tree Meditation to broaden one's connection to the magic as we seek to communicate with and learn from our tree allies. Come join us for a fun class as we explore trees, barks, nuts and the fruits of Fall. We might even hug some trees!