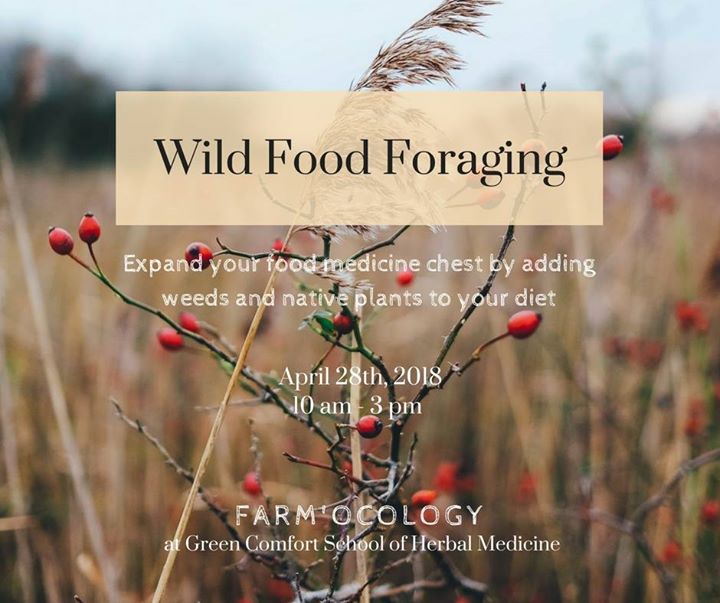 Details:
Date: April 28, 2018
Time: 10:00am - 3:00pm
Sponsor: Green Comfort School of Herbal Medicine
Venue: Green Comfort School of Herbal Medicine
Where: 100 Rock Mills Road, Castleton VA 22716
About:
Wild foods contain an abundant supply of nutrients readily available and easily assimilated into the body. During this class we will wander the paths and stream beds around the Green Comfort botanical sanctuary and collect violets, chickweed, garlic mustard, burdock, dandelions, chicory, poke weed shoots and many more seasonal edible weeds. Teresa Boardwine, registered herbalist and founder of Green Comfort School of Herbal Medicine, will demonstrate and prepare a wild food lunch with the assistance of the class while teaching you the powerful properties of each foraged ingredient. You will be surprised how tasty and nourishing the plants growing around us can be! Lunch is included in this class, with ingredients being foraged from our hike. Dietary restrictions will not be able to be accommodated, but you are welcome to bring your own food if you have dietary and allergy concerns. Tea and snacks are always available during class. Come spend the day at Green Comfort School of Herbal Medicine's botanical sanctuary in the beautiful Shenandoah Valley, only 1.5 hours from Washington, DC. Remember to bring good walking shoes and be prepared to be outdoors for a good part of the day.