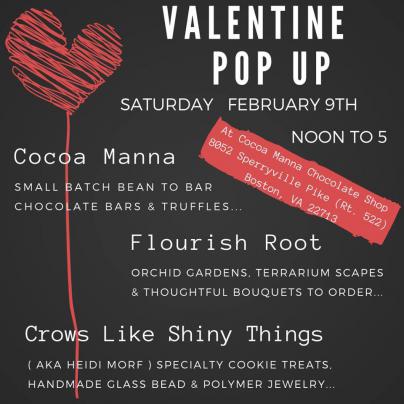 Details:
Date: February 9, 2019
Time: 12:00pm - 5:00pm
Sponsor: Flourish Root
Venue: Cocoa Manna
Where: 8052 Sperryville Pike, Culpeper, VA 22701
About:
Join us for some Valentine Love ....

~ Saturday, February 9th from 12-5 at Cocoa Manna HQ ~

Small Batch Bean to Bar Chocolate Bars & Truffles from Karen Mosebrook of Cocoa Manna. Orchid Gardens, Terrariums & Bouquets to Order from Jen Perrot of Flourish Root Floral Studio. Specialty Cookies and Handmade Glass Bead & Polymer Jewelry from Heidi Morf of Crows Like Shiny Things.