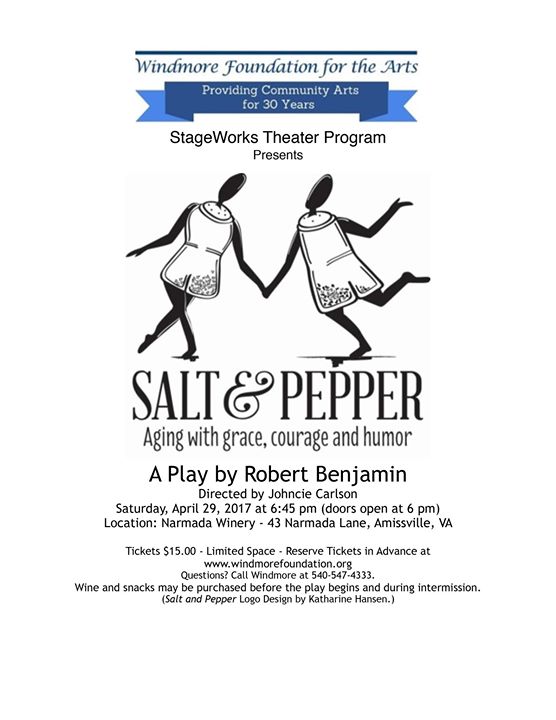 Details:
Date: April 29, 2017
Time: 6:00pm - 9:00pm
Where: Narmada Winery
43 Narmada Ln
About:
Salt and Pepper, by physicist and playwright Robert Benjamin, is a play about real life situations encountered by seniors. It is humorous and mildly provocative. Eight scenarios show the decision making process involved in finding love, the strength to reach out to new options, dealing with the loss of a spouse, and coping with a life-threatening illness. Author Benjamin handles these problems with deep understanding, grace, courage, and glimpses of humor. The play has a novel interconnection among the scenes, including a "double bookend" structure where the first and last scene are intertwined, as are the second and the next-to-last. Mature characters strive for personal happiness in different situations. Issues include mortality, rekindled romance, healing, and gift-giving. Ms. Johncie Carlson, the Director of the play, is a Culpeper resident who has acted in and directed many productions. She has worked diligently on every detail of the presentation. The ten talented local actors have many years of experience in professional and community theater. The performance will be Saturday, April 29, 2017 at 6:45 PM at Narmada Winery at 43 Narmada Lane, Amissville, VA. The doors open at 6:00 PM. Wine and refreshments will be available for purchase before the performance and during the intermission. All tickets can be purchased with a credit card at www.windmorefoundation.org. The cost is $15 per person. Only 50 tickets will be sold for general admission. This setting is handicapped accessible. Please join us for an enjoyable community theater event. Windmore Foundation for the Arts promotes the visual, literary, and performing arts through awareness, participation, and education. For more information about Windmore events and arts programs, or call 540-547-4333.