It's easy to "Buy Fresh, Buy Local" in Rappahannock County. Our farms and orchards are committed to sustainable agriculture and their products are prominent at farmers' markets in the region and in nearby Washington, D.C. — and you can tour more than 20 of them the last week of September every year during the annual Rappahannock County Farm Tour and Festival. In addition, we have several local nurseries growing everything from conifers to Japanese maples, native plants and mums. Buy directly from our farms and get to know the people behind this healthful way of living.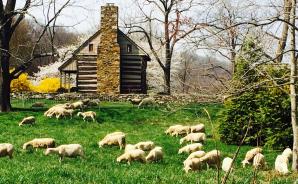 Bean Hollow Grassfed is located in Flint Hill, VA; 65 miles west of the District of Columbia. For thirty-five years and three generations we have run sheep and cattle on Over Jordan Farm, nestled in the foothills of the Blue Ridge Mountains in western Virginia. We believe that properly managed livestock farms are a key to rebuilding local economies and regenerating healthy ecosystems. Well managed pastures and forests naturally capture CO2, making them important tools in the toolkit for tackling global warming. Visit our on farm, self service store for grassfed lamb and beef, and pastured pork.
15 Over Jordan Farm Lane, Flint Hill, VA 22627
(847) 812-1618
More information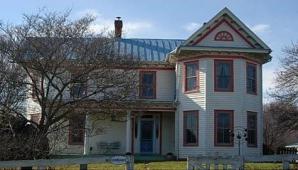 Located on 138 acres in the shadow of Old Rag, Belle Meade Farm offers tranquility, space and beauty. Enjoy our accommodations in a renovated Victorian farmhouse and cottage. Explore the farm, enjoy the pool, hot tub and pond. Whole house rentals, group retreats available. Guests of all ages welcome. The Schoolhouse is available for special events. Pasture-raised eggs and meat for sale.
353 FT Valley Road Sperryville VA 22740
(540) 987-9748
More information
A local farm raising cattle, sheep, goats, pigs and chickens. We provide healthy natural products. Custom cut beef, pork, goat, and eggs.
25 Belle Ridge Farm Lane, Woodville, VA 22740
(540) 987-8612
More information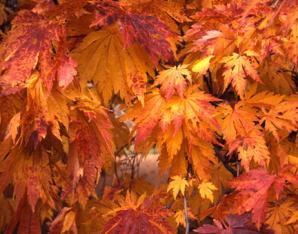 Eastwoods is a small tree nursery specializing in Japanese maples (more than 300 different varieties), Ginkgos (about 30 different cultivars) and selected conifers (about 80 different selections). Our trees vary in size from one-year babies to mature trees with up to 8-inch diameter trunks. We back up our sales with help selecting the best tree for your location and with information on planting, care and pruning.
634 Long Mountain Road Washington VA 22747
(540) 675-1234
More information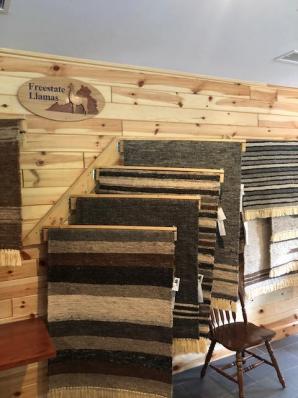 16 Pointer Ridge Lane Washington, VA 22747
(540) 729-6570
More information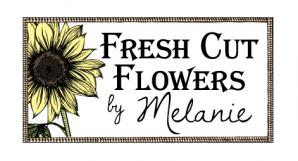 Fresh Cut Flowers by Melanie (Farmer/Florist) is a specialty cut flower farm growing unique, uncommon and heirloom flowers using sustainable gardening practices. Providing both wholesale and retail flowers by the stem, as well as, custom florals. Our website is http://www.freshcutflowersbymelanie.com/
Our family farm has been passed down through six generations and has always been the gathering place for family, extended family, friends and weary travelers for over 200 years. Our heart lies in community. We are proud to continue our heritage of the family farm and to be part of the "flower revolution", the return of the flower industry to the United States and the return of the family run flower farm.
Send us your email if you'd like to be on our weekly availability list. Delivery is available. Weekly bouquets and stems by the bunch are available at the farm. Our weekly bouquets are also available at the Sperryville Corner Store from April through December and online from www.lakotafreshfoods.com.
May through October we offer pick up at the farm late Friday afternoons and Saturday mornings for pre-ordered bouquets and stems. Let us know and we'll have your order ready for you.
45 Thornridge Lane, Boston, VA 22713
540-522-6793
More information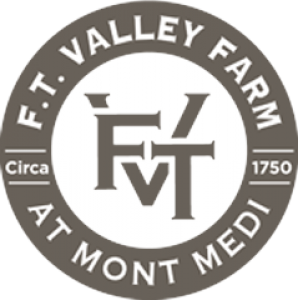 Details to be updated soon. Check back!
231 FT Valley Road, Sperryville, VA 22740
More information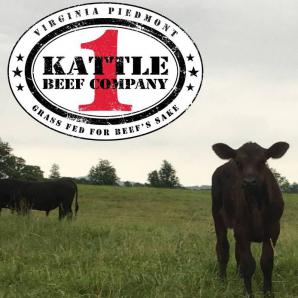 "GRASS FED FOR BEEF'S SAKE™"
Located just 70 miles west of Washington, DC in the foothills of the majestic Blue Ridge Mountains, Kattle 1 Beef Company is a working ranch focused on raising 100% grass-fed and grass-finished beef. We believe that great beef starts with happy, healthy cows and natural, sustainable pasture management.
What makes a cow happy?

Grass, and plenty of it. Did you know a cow's first stomach, the rumen, can hold 95 liters of undigested forage? Obviously, these guys love grass! Our grass-finished beef comes from cattle that eat nothing but grass, their entire life! This is the way Mother Nature intended ruminant animals to live. On grass. Grazing. Foraging. All day, every day. Nothing but grass and legumes. It's a fact, grass finished cattle produce a healthier product that contains more Omega-3s and CLA. Most grass-finished cattle do not reach their ideal weight until 24 months of age or older, a much slower (and mindful) approach to raising our beef cattle. Slow, steady, natural growth wins the race in both nutritional and environmental impact.
95 Crossmolina Farm Ln, Washington, VA 22747
(817) 403-0496
More information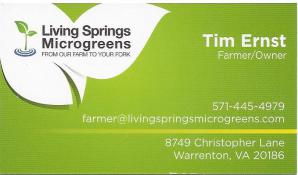 Grows and sells microgreens to the public and chefs in Northern Virginia.
71 Four Springs Lane, Amissville, VA 20106
(571) 445-4979
More information
67 Hackleys Mill Rd, Amissville, VA 20106 (202) 870-8817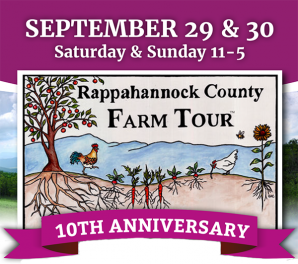 The Rappahannock County Annual Farm Tour is a free, two-day, self-guided tour offering a behind-the-scenes glimpse of our working farms.
We'll have 15+ venues on this year's tour, with a wide range of farms and experiences – from beekeeping to llamas to organic vegetable farms, not to mention goats, chickens, cows, as well as local artisans selling their wares.
It's a great opportunity to go behind the scenes and see real, working farms surrounded by the pristine beauty of Rappahannock County. Rappahannock County's early settlers were small farmers; officially founded in 1833, it has long been deeply rooted in agriculture.
The mission of the Rappahannock County Farm Tour is to present an unforgettable, educational and enriching experience of Rappahannock County's (Agri)Culture.
PO Box 519, Washington, VA 22747
More information
64 Old Hollow Rd, Sperryville, VA 22740 (540) 987-8636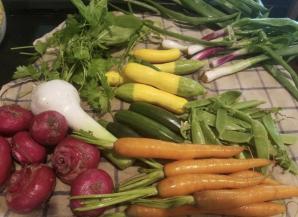 Bio-organic vegetables, pastured pork, grass fed/finished beef, farm goods.
PO Box 411 Washington, VA 22747
(571) 269-9050
More information