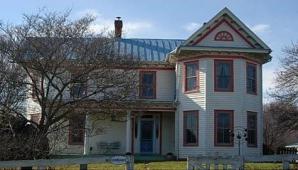 Located on 138 acres in the shadow of Old Rag, Belle Meade Farm offers tranquility, space and beauty. Enjoy our accommodations in a renovated Victorian farmhouse and cottage. Explore the farm, enjoy the pool, hot tub and pond. Whole house rentals, group retreats available. Guests of all ages welcome. The Schoolhouse is available for special events. Pasture-raised eggs and meat for sale.
353 FT Valley Road Sperryville VA 22740
(540) 987-9748
More information
12567 Lee Highway Washington VA 22747 (540) 987-3388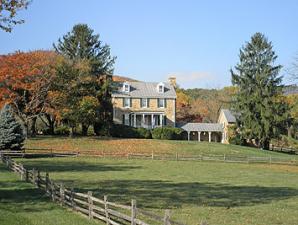 Caledonia Farm is a National Register landmark celebrating its 200th anniversary in 2012. Two suites, one with two bedrooms, have air conditioning, heat controls, working fireplaces, private baths and view of the Blue Ridge Mountains in the Shenandoah National Park. Caledonia is also a 135-acre working beef cattle farm and is stop #1 on the Virginia Birding & Wildlife Trail. Ultimate hospitality since 1985 and still just $140 per night.
47 Dearing Rd. Flint Hill, VA 22627
(540) 675-3693
More information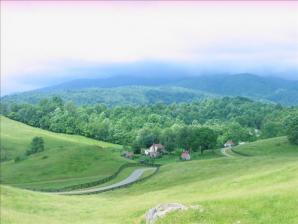 Enjoy the serenity of the Blue Ridge in a historic, completely renovated 1860s farmhouse or in our new, upscale Barn Loft. Experience farm life at its best on our secluded 130 acre farm only 5 minutes from Sperryville. Swim, fish, and canoe our ponds. Hike our mountain trails. Marvel at our lush gardens, friendly farm animals, and stunning views. Appreciate the historical significance of land that was once the county "Poor Farm" and home to women and children of Civil War veterans. Child and pet friendly. Farmhouse sleeps up to 7 and Barn Loft sleeps 4.
123 Poortown Rd Sperryville VA 22740
(540) 987-8477
More information
3131 Slate Mills Road, Sperryville, VA 22740 (540) 987-8025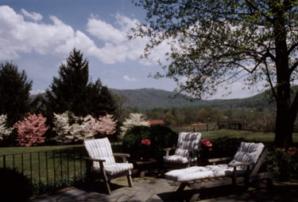 Guests enjoy this working farm with cattle, miniature donkeys and sheep, panoramic mountain views, perennial gardens and lush pasture land — all just a 5-minute stroll from the historic village of Washington. Accommodations in the farm's fieldstone manor house offer four well-appointed guest rooms, each with its own luxurious private bath. Sumptuous breakfasts are included — everything is homemade.
POB 124, 636 Mount Salem Ave Washington VA 22747
(540) 675-3679
More information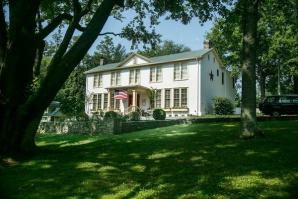 We offer dining and luxury lodging in an historic schoolhouse that is situated on five picturesque acres. We feature a full-service dining restaurant, including a traditional pub, and four luxury suites in a newly renovated building that retains its historic charm while offering modern comfort and luxury — a perfect gathering spot for receptions, weddings and large outdoor events. We also have a private dining room for your special events. The building and grounds offer a beautiful backdrop for your special event, and our kitchen can prepare an equally beautiful banquet. Food, spirits, wine, lodging -- we invite you to relax and enjoy the good life at Flint Hill Public House Restaurant & Inn. Contact us to make a reservation or to discuss your special event.
675 Zachary Taylor Hwy PO Box 356 Flint Hill, VA 22627
(540) 675-1700
More information

Forgotten Creek Farm rests quietly on Hackleys Mill Road in Amissville, VA. Forgotten Creek Farm offers a farm and bed and breakfast on fifty-one acres. Forgotten Creek Farm was originally owned by the Compton Family of Rappahannock County, VA, now owned and operated by the Shoemakers.
The half acre pond provides fishing along with scenic views of Mt. Marshall and of the Blue Ridge Mountains. Relax with breathtaking views at this serene lake. Fresh vegetables, berries and fruit are provided by the natural garden located on the premises. A herd of twenty grass fed Black Angus cattle graze the fields beyond the bed and breakfast.
The guest lodging consists of an entire private level of the main house with two bedrooms and a full bath. The guest quarters also provide a TV entertainment area, a reading area and a coffee/dining area. Six foot tall glass doors open onto the morning patio with spectacular views of the mountains.
We do welcome small families because of the two bedrooms one equipped with a Queen sized bed and the other with one full sized bed.
High speed internet provided by Piedmont Broadband.
43 Forgotten Creek Lane Amissville, VA 20106
(540) 937-7303
More information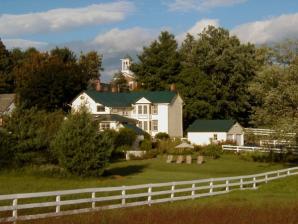 Located in the historic village of "Little" Washington, the five-guestroom Foster Harris House is also a "micro-restaurant" serving prix fixe dinners by reservation in its intimate 10-seat dining room on Fridays and Saturday nights. The Foster Harris House has received TripAdvisor's Certificate of Excellence for the past nine years and is also a member of BedandBreakfast.com's prestigious Diamond Collection. Room rates start at $219. Dinner is $85 per person or $115 if paired with wine (plus tax and gratuity). Private dinners can be booked for parties of 6 - 10 on any night of the week.
POB 333 189 Main Street Washington, VA 22747
(540) 675-3757
More information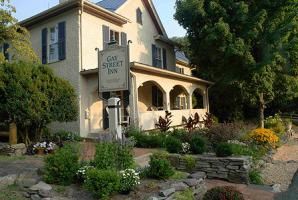 Our updated, 1850s farmhouse in historic Washington is located within walking distance of the renowned Inn at Little Washington and just minutes from Shenandoah National Park, award-winning wineries, breweries, distilleries, horseback riding, artist studios and galleries, and antique stores. Your day here begins with a home-cooked breakfast in our sunroom. Lounge in the library or gardens, or retreat to the quiet of one of our five spacious guest rooms, each with private bath. One pet-friendly room.
160 Gay Street Washington VA 22747
(540) 316-9220
More information
1482 Zachary Taylor Highway, Huntly, VA 22640 (540) 636-6010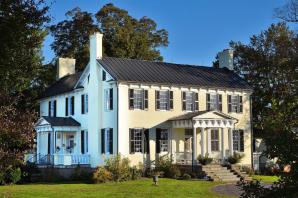 Classic Southern Hospitality at Its Best
Greenfield Inn Bed & Breakfast is a grand Southern Georgian-style 1760s mansion located on an 83-acre estate surrounded by gently rolling hills. Breathtaking views in a relaxed, comfortable setting of understated elegance welcome you. An excellent choice for a weekend or mid-week getaway, vacation to tour the Greater Piedmont Region, destination wedding, anniversary celebration, or corporate executive retreat—Greenfield Inn Bed & Breakfast provides a journey back in time complemented by all of today's comforts. Accommodations are available for ten. We invite you to visit us.
Book two nights or more and receive 15% off your entire stay.

30 September Song Lane, Washington, VA 22747
(540) 675-1114
More information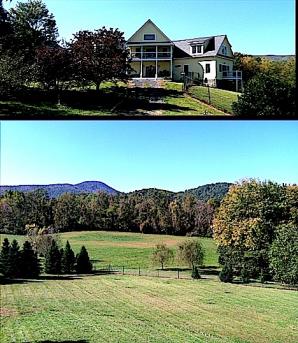 Experience casual country living on a 27-acre, family-owned orchard and surrounding grounds. Hall's Orchard and House is located on a resettlement site of the Shenandoah National Park established during the presidential terms of Hoover and F.D.R. Guests can enter the Skyline Drive in minutes from Hall's Orchard and House at either the Thornton Gap Entrance Station or Front Royal Entrance Station.Hall's House is a three level home build in 2007 with large and open living spaces. It has an expansive front porch, balconies on two levels and two patios for relaxing. The house is decorated with vibrant colors and Asian influences. The three guest rooms are large and spacious with comfortable furnishings. Two of them have multiple beds. All rooms have sweeping, wide, commanding views of the Shenandoah National Park. Hall's Orchard and House can be seen from Hogwallow Flats Overlook on the Skyline Drive.The orchard has 400 varieties of heirloom apples (all trees are tagged and cataloged) and is on the annual Rappahannock County Farm Tour and Festival. Email hallsorchardandhouse@wildblue.net for more information.
P.O. Box 99, 77 Bear Wallow Rd Flint Hill VA 22627
(540) 675-1124
More information
11 Penny Lane, Sperryville, VA 22740 (540) 987-9600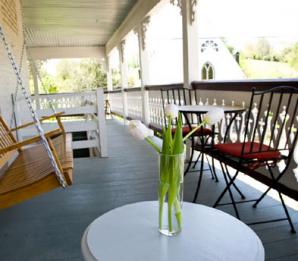 This renovated 1820s hotel is located in the heart of Sperryville. The abundant porches offer views of the village and mountains, and in-room fireplaces permit private relaxation. Start the day with a delicious breakfast made with the freshest ingredients available.
47 Main Street Sperryville VA 22740
(540) 987-3383
More information
100 Horseshoe Hollow Lane, Washington VA 22747 (540) 675-3409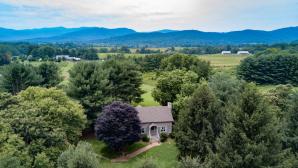 Experience charming LeFay Cottage at Little Washington, nestled at the foot of the Blue Ridge Mountains. Create lasting memories with loved ones while enjoying the five acre property, the well appointed rooms, picturesque views and fabulous location. Inside the three bedroom, two bath cottage French and English antiques and twinkly chandeliers adorn each room flowing from the living room, dining room and full kitchen. Fling open the sunroom doors onto the deck and enjoy the Blue Ridge Mountain view. Adventure awaits beyond the cottage grounds, with local boutiques, antique shops, a luxurious spa, farmers markets, and fine restaurants such as the world renowned Inn at Little Washington all located within a short drive. Child friendly. Pets can be boarded next door to the Cottage and allowed on the grounds. Horses may be boarded at stable across the field.
41 Christmas Tree Lane, Washington, VA 22747
(703) 980-1478
More information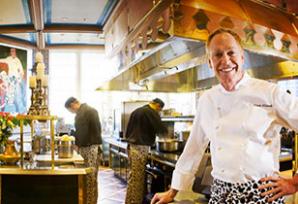 The Inn at Little Washington has become an international culinary shrine. Chef/Proprietor Patrick O'Connell's approach to cooking pays homage to the tenets of classical French cuisine and reflects a belief in "the cuisine of today" — healthy, eclectic, imaginative, unrestricted by ethnic boundaries. The inn's 18 bedrooms, suites and cottages are sumptuous hideaways. Awarded five stars by the 2011 Forbes Travel Guide (formerly Mobil Travel Guide); AAA's Five Diamond Award; Wine Spectator Grand Award; Conde Naste Traveler's Gold List; Travel & Leisure's Top 500 Hotels for 2011.
Middle and Main streets, Washington, VA 22747
(540) 675-3800
More information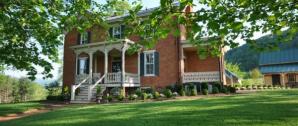 Welcome to the Inn at Mount Vernon Farm. In 1827, John Miller Jr., "Poplar John," purchased Mount Vernon Farm and built this home on a knoll overlooking his fields and the Shenandoah mountains. From the front porch he could watch over his herd and relax to the sounds of nature. Five generations later, we invite you to join us on the farm and step back in time to a place where you can put the stress of modern life behind you and unwind in a beautiful setting.
206 Mount Vernon Lane Sperryville VA 22740
(540) 987-8115
More information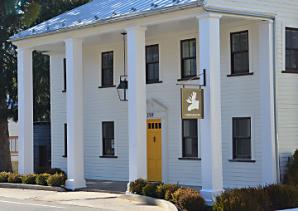 A hip, modern approach to the historic country Inn. The White Moose Inn (circa 1837) combines calm with luxury. Features include a large terrace with mountain views, rooms with vaulted ceilings, crisp clean designs and a location just steps from the famous Inn at Little Washington.
291 Main St, Washington VA 22747
(540) 675-3207
More information