Visitors Center Details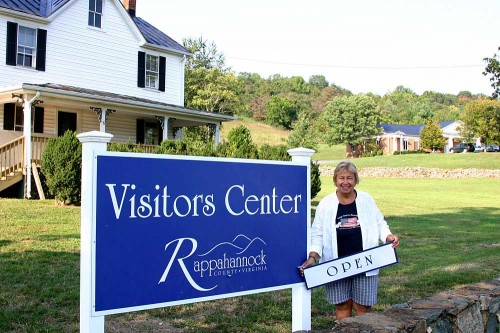 The Rappahannock County Visitors Center is just east of the Town of Washington and next to the Rappahannock County Library. Free Wi-Fi available. Visitor Center business hours are: 9 to 5 Friday-Saturday and holiday Mondays, noon to 5 Sundays — except during the winter. From January through March, the Visitors Center is open holiday weekends only.
Rappahannock County tourism information is available year-round at the kiosk outside the Visitors Center. A visitor information kiosk is also located in front of the U.S. Post Office in Washington, Virginia, opposite the Inn at Little Washington on the corner of Main and Middle streets.
Rappahannock County Office of Tourism
Use the contact form on this page to get in touch, or:
During the week and in the winter months, you can contact the Rappahannock County Office of Tourism for visitor information. Office hours are 8:30 to 4:30 weekdays; closed federal and state holidays. You may also leave a voice message at the Visitors Center, 540-675-3153, and we will return your call during staffed hours.
Visitors Center: (540) 675-3153
Office of Tourism/County Administrator: (540) 675-5330
County government/information website: rappahannockcountyva.gov
The Businesses of Rappahannock
For more information about or to join the Businesses of Rappahannock, the nonprofit organization that represents Rappahannock's hospitality and community businesses, fill out the contact form on this page or go here.