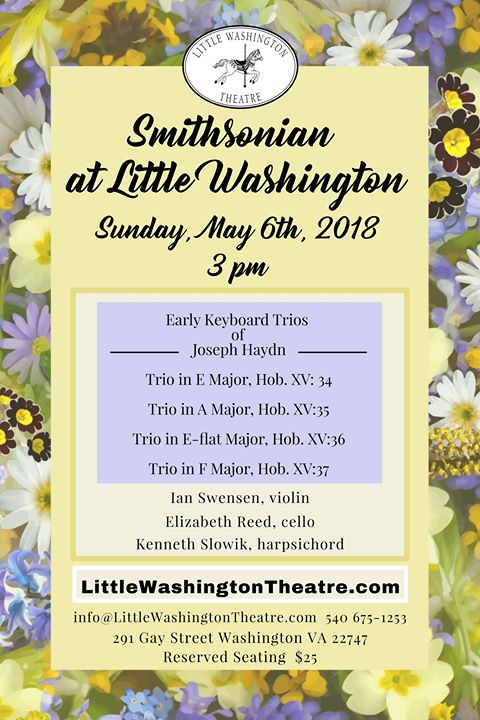 Details:
Date: May 6, 2018
Time: 3:00pm - 5:00pm
Sponsor: Theatre at Washington, Virginia
Venue: Little Washington Theatre
Where: 291 Gay St, Washington VA 22747
About:
As part of the 26th season in the Smithsonian at Little Washington Series, renowned musician Kenneth Slowik will present a special program of Joseph Haydn. Mr. Slowik is artistic director of the Smithsonian Chamber Music Society. PROGRAM The Smithsonian Chamber Players Ian Swensen, violin Elisabeth Reed, cello Kenneth Slowik, harpsichord Early Keyboard Trios of Joseph Haydn Trio in E Major, Hob. XV: 34 Trio in A Major, Hob. XV:35 Trio in E-flat Major, Hob. XV:36 Trio in F Major, Hob. XV:37 A highly-valued component of all concerts in the Smithsonian at Little Washington series is the commentary provided by Ken Slowik throughout the program. His remarks shed light on the glorious music and the life and times of the featured composers. In 2011, Mr. Slowik was the recipient of the Smithsonian Secretary's Distinguished Research Lecture Award, and the remarks during the concerts at the Little Washington Theatre are generally an abbreviated version of the talk which precedes each of the concerts heard in Washington, D.C.