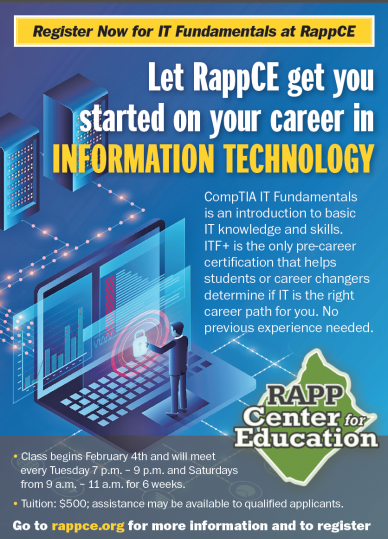 Details:
Date: February 4, 2020 - March 14, 2020
Time: 7:00pm - 9:00pm
Sponsor: Rappahannock Center for Education
Where: 12018 Lee Highway, Sperryville VA 22740
About:
CompTIA IT Fundamentals (ITF+) is an introduction to basic IT knowledge and skills. CompTIA ITF+ helps professionals to decide if a career in IT is right for them or to develop a broader understanding of IT.
ITF+ is the only pre-career certification that helps students or career changers determine if they have a competency for information technology and if it is the right career path for them.
ITF+ is the only single certification that covers all areas of IT foundations, creating a broad understanding of IT, making it ideal for non-technical professionals.
In 2017, nearly 5.4 million individuals worked as technology professionals across the U.S., representing an increase of 2.1%, or nearly 110,000 net new jobs. CompTIA ITF+ will help you determine if this is the field for you.

For more information and application, visit: www.rappce.org/information-technology-it-training/