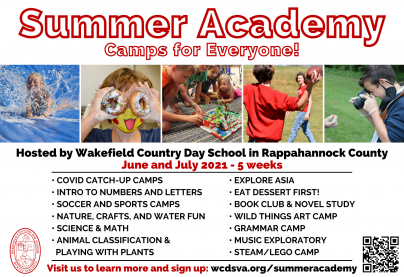 Details:
Date: June 21, 2021 - July 30, 2021
Time: 9:00am - 3:00pm
Sponsor: Wakefield Country Day School
Venue: WCDS
Where: 1059 Zachary Taylor Highway, Huntly, VA 22640
About:
WCDS Summer Academy 2021!
June 21 - July 30, 2021
Wakefield Country Day School is offering 5 weeks of summer programs for 3-year-olds through 12th-grade students this summer. Get ready for next school year with our COVID CATCH-UP Camps, summertime enrichment courses, sports camps and more. Fun for all ages!
*On-campus space is extremely limited and is offered on a first-come, first-served basis.
https://wcdsva.org/summeracade...
5406358555